This Guardian Character only appeared once in the anime and twice in the manga.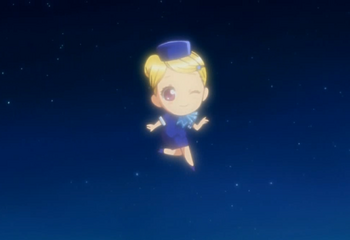 History
She was orginally turned into an X-Egg by Nikadou, due to Yuki's fears of starting over in a new place. She became an X-Character and was the first X character Amu purified. She spoke English, which probably represents Yuki's desire to adapt to changes.
Appearance
Yuki's guardian Character wears an air hostess' outfit. She has violet eyes with bun styled blonde hair and a gray hair pin.
Voice By
See also
Gallery
Ad blocker interference detected!
Wikia is a free-to-use site that makes money from advertising. We have a modified experience for viewers using ad blockers

Wikia is not accessible if you've made further modifications. Remove the custom ad blocker rule(s) and the page will load as expected.