Yamada is a character in Shugo Chara!.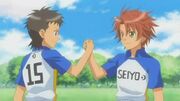 His heart's egg was turned into an X-egg, because he felt upset that he didn't get chosen for the soccer game. Yamada appeared in episode 5-shoot!Get that x character! He is in the seiyo gakuen's soccer team/club along with Kukai. Amu-chan later purifies Yamada's egg with open heart.
Voice By:Greg Ayres,Lee So Yeong
Ad blocker interference detected!
Wikia is a free-to-use site that makes money from advertising. We have a modified experience for viewers using ad blockers

Wikia is not accessible if you've made further modifications. Remove the custom ad blocker rule(s) and the page will load as expected.