White Flag
Talk

0
547pages on
this wiki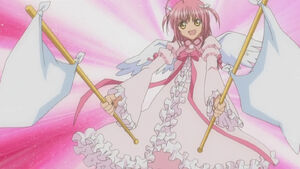 The White Flag (ホワイト・フラッグ howaito furaggu) is used by Amulet Angel to perform the defensive techniques "White Flag" and "White Flag Double Plan".
El has similar white flags, as shown in episode 30.
White Flag has apparently been a useless move,although it protected Amu from Utau's Dream Trident as seen in Volume 6 of the Manga. In the anime it was quite useless but in episode 42 it was changed into white flag double plan which protected Amu from Utau.
GIVE ME A BREAK!!!!

This article is not completed or was introduced as a stub. Unfortunately, this article may have lack of information, vulgar interceptions, or unknown lyrics.
You can help Shugo Chara Wiki by expanding it.