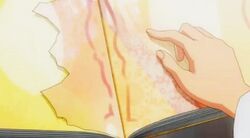 The Heart's Egg
(
Kokoro no Tamago
) is an artbook created by the
Founding King
of
the Guardians
. It contains information about
Heart's Eggs
and
Guardian Characters
. Some pages are lost for unknown reasons, the missing pages may mean what's next will be up to the child to create their own future.
Every child has a egg within their soul.
This heart's egg can't be seen with one's eye.
But, as the child grows up it disappears...
In Episode 101: The Torn Picture Book! A Sad Secret!
Ad blocker interference detected!
Wikia is a free-to-use site that makes money from advertising. We have a modified experience for viewers using ad blockers

Wikia is not accessible if you've made further modifications. Remove the custom ad blocker rule(s) and the page will load as expected.