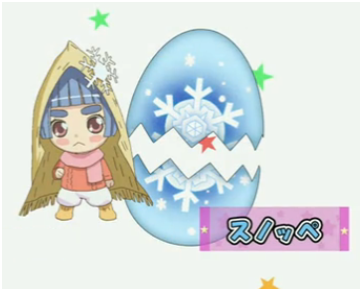 Snoppe is a character in the anime. She is the Guardian Character of a snowboarding girl named Mifuyu Torii and represents her desire to not be nervous when people are giving their hopes onto her to win.
Snoppe first appears in Episode 14, but gets changed into an X-Character when Nikaidou makes her master insecure and has to be saved by the Guardians in Episode 15, which they succeed.
Special Powers
X-Character

As an X-Character, Snoppe is able to create snowmen and spit snowballs from her mouth. Those who fall victim to her snowballs become too tired to fight.
In her X-Character form, she has the same yellow cloth like her normal self.
Character Change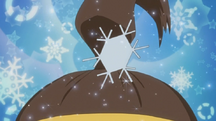 Snoppe can use
Character Change
to make her owner calm down. As an aspect of the change, her headband changes to a snowflake.
Apearance
Snoppe has light blue hair and eyebrows. She also has a yellow cloth on her head. She has a pink scarf with a red sweater, white pants and yellow shoes.
Gallery
See also
GIVE ME A BREAK!!!!

This article is not completed or was introduced as a stub. Unfortunately, this article may have lack of information, vulgar interceptions, or unknown lyrics.
You can help Shugo Chara Wiki by expanding it.