Shuusui Souma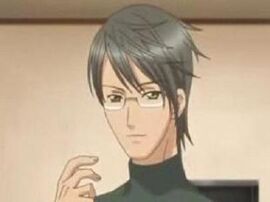 (相馬秀水,
Sōma Shūsui
) is the second eldest brother of the Souma family. He appeared in
episode 79
and chapter 31 of
Shugo Chara!
when
Kukai
invited
Tadase
to his house to meet him and his other brothers.
Personality
Shuusui appears to be the smartest of the brothers, and maybe the most mature, though he lets his brothers bother people without any objections. Also, he is used to letting Kaidou fight with Kukai . He normally stands with his arms folded.
Appearance
Shuusui has dull brown-gray hair and brown eyes. He wears glasses. He has pale skin, is quite slim, and he is probably not as sporty as Kaidou or Kukai.
Family
Trivia
In Japanese, his first name means "Silk"
See Also