Natsuko Nishino

Name

Natsuko Nishino

Appearance

Team

Seiyo Academy students

Japanese Voice

Matsumoto Megumi
Natsuko Nishino is a character in Shugo Chara that appears in Episode 82.
Appearance
She is a girl, that has short brown hair with dark blue eyes, and usually wears white cap. She is a little bit shorter than Amu.
History
She loves baseball. She asks Amu to play baseball, and Amu decides to follow her. The thing is, Natsuko has a dream to be a pitcher. But she has an enemy that now is a pitcher, named Fujita. Kukai teaches her to be a pitcher, but she is nervous. Natsuko's pitching skills are very good. Kukai comes to be the special training coach, and he said Natsuko's pitching skill is fast, but she has no control. She says she is nervous. When the test started, Natsuko pitched well. However, Fujita is chosen to be the pitcher. She was sad, and Lulu turns her Heart's egg into ? egg.
Confusion Character Transformation
Pitching Dream
Lulu
turn Natsuko's hearts egg into ? egg, and become Pitching Dream. She makes a ball shoot and annoys everybody to catch the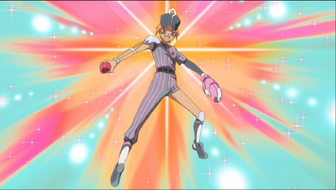 ball. She attacks Kukai and Amu with her red ball. Amu just keeps her eye on the ball with her Heart Rod stick that can hit the ball. Amu hits it, and the ball flys into the sky. Natsuko was so upset to see the ball fly away, and finally, Amu tells her to no give up when training and she changes her ? egg back into a Heart's egg.