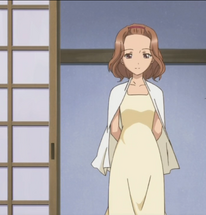 Mizue Hotori
(辺里 瑞恵,
Hotori Mizue
) is
Tadase
's mother and
Tsukasa
's sister. 
Voice By: Jennifer Hale, Lee Yeong A
History
Even though she was friends with the Tsukiyomi family, she harbors jealousy and envy towards Souko because of the close relationship she had with her husband, Yui.
Once Alto disappeared, and Souko felt sick, both Ikuto and Utau lived with the Hotori family for a while. As such, Mizue would frequently openly show her hatred for Ikuto, to the point of calling him a troublesome kid and accusing his violin playing of bringing bad luck to people who hear it.
However, Yui Hotori soons calms her fears by saying she was the one whose heart he wanted to unlock all along, getting rid of her jealousy. She agrees that if she sees Ikuto or Utau again, she will apologise. Since she is seen at the wedding along with Soko, Utau and Ikuto, it can be assumed that she apologized.
See also
Ad blocker interference detected!
Wikia is a free-to-use site that makes money from advertising. We have a modified experience for viewers using ad blockers

Wikia is not accessible if you've made further modifications. Remove the custom ad blocker rule(s) and the page will load as expected.