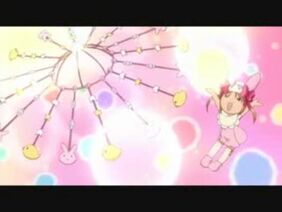 Merry! Merry! (メリー・メリー merii merii) is one of Dear Baby's techniques that sends a flying baby mobile which puts enemies to sleep. The improvised version is Merry Merry Double Block.
Trivia
It can make herself fall asleep as well if she is in range.
A quirk about this is that she does a dramatic pose before sending the mobile flying.
It first appears in Episode 41 of the anime and Chapter 24 of the manga.
Once in Shugo Chara Doki Doki, the attack is thought to be successful. However, the X-Egg was actually only pretending to sleep.
Ad blocker interference detected!
Wikia is a free-to-use site that makes money from advertising. We have a modified experience for viewers using ad blockers

Wikia is not accessible if you've made further modifications. Remove the custom ad blocker rule(s) and the page will load as expected.