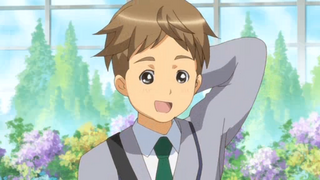 Mamoru Mizuno
is an anime-only character who appears in episode 56.
Personality
Mamoru seems to be located in another school other than Seiyo Academy. He is mostly interested in exploring outer space. When he experienced the advantages of outer space, he always carries a book that focuses on facts of space.
Appearance
Mamoru resembles of a boy with informally gray eyes and brown, short hair. His garments is a gray-colored uniform with a green neck tie; Mamoru can be always seen carrying a dark gray tote bag.
Confusion Character Change
When his Guardian Egg is extracted into a ? Egg, he doesn't seem to use some exact element, but stare at the sky, and declares to be in space.
Space Dream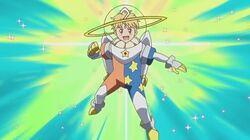 As Space Dream, Mamoru summons a purple energy to develop every object into rockets. He can also fly with his backpack, enlarging.
History
He only appears in one episode as Mamoru Mizuno dream to be close to the space that was taken advantage of astronauts.
Gallery
Ad blocker interference detected!
Wikia is a free-to-use site that makes money from advertising. We have a modified experience for viewers using ad blockers

Wikia is not accessible if you've made further modifications. Remove the custom ad blocker rule(s) and the page will load as expected.