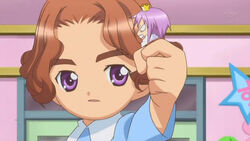 Maku is an anime-original character who appears in Shugo Chara Doki! He is a kindergarden boy who is the same class as Ami Hinamori. Ami announces that he is the "clay prince". He appears in Episode 58. He appears to have talent for sculpting and want Kiseki to be his model for sculpture. When he kept resculpting, he recalls that it is not perfect. After sculpturing Kiseki constantly, but not up to his standards, Lulu De Morcerf turned his Heart's Egg into a Wishing Egg. After he finally got bored of sculpturing his Heart's Egg turn into normal. At the end of the episode, he recalls that he is "done" with clay, and wants to start on origami.
Trivia
Maku is the first person to do a confusion character change, but not transform.
His Wishing Egg naturally becomes a Heart's Egg without the help from "Open Heart " as he got bored from making clay.
See also
Ad blocker interference detected!
Wikia is a free-to-use site that makes money from advertising. We have a modified experience for viewers using ad blockers

Wikia is not accessible if you've made further modifications. Remove the custom ad blocker rule(s) and the page will load as expected.