This Guardian Character only appeared once in the anime and twice in manga. She is born from
Maika's
wish to be a prima ballerina like her mother.
History
When she appeared in the anime she became an X-Egg because Maika was injured and started thinking negative thoughts ,but was quickly purified by Amu. She tells her that she knows Maika will become a Prima someday (Amu mentioned that she and Yaya Yuiki were both amazing primas.)
Appearance
She has purple hair, wears a ballet costume and wears a crown with white feathers leading down all the way behind her ears. The last thing she said to Amu before returning to Maika's heart egg was, "I don't want to dance with red shoes anymore. Next time I hatch, I'll use my own toe shoes!"
Gallery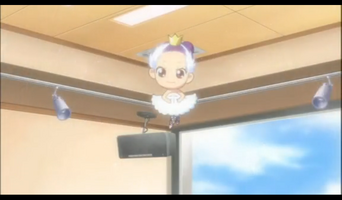 See also