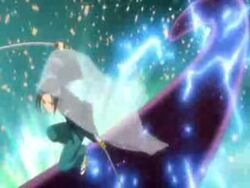 Lightning Blade (稲妻ブレード Inazuma burēdo) is Samurai Soul's finishing blow to tear his targets apart.
He can combine forces with Amulet Clover's Remake Honey and Remake Honey Special; and Platinum Royale's White Decoration.
History
When Kairi is convinced that he is actually a good person by Amu, he transforms into Samurai Soul with Musashi. Together, they defend Amu from X Eggs with this attack.
Trivia
It first appears in Episode 41 of the anime and Chapter 24 of the manga.
This attack shares Kakashi Hatake's signature move from the Naruto series.
Basically also shares one of the Master Swordman (Ryoma) attacks from Power Stone.
GIVE ME A BREAK!!!!

This article is not completed or was introduced as a stub. Unfortunately, this article may have lack of information, vulgar interceptions, or unknown lyrics.
You can help Shugo Chara Wiki by expanding it.

Ad blocker interference detected!
Wikia is a free-to-use site that makes money from advertising. We have a modified experience for viewers using ad blockers

Wikia is not accessible if you've made further modifications. Remove the custom ad blocker rule(s) and the page will load as expected.