Kaidou Souma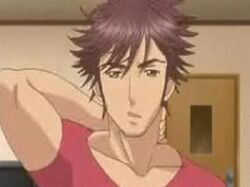 (相馬海童,
Sōma Kaidō
) is the eldest brother of the Souma family. He appeared in
episode 79
and chapter 31 of
Shugo Chara!
when
Kukai
invited
Tadase Hotori
to his house to meet him and his other brothers.
Personality
Kaidou is very competitive with Kukai, which shows when Kaidou asks to play soccer with him. He is shown to be very harsh, but deep down in his heart hides a good person. He is similar to Kukai.
Appearance
Kaidou is the most muscular of the five brothers. He has dark brown spiky hair and also sideburns. His eyes are brown and he has light tan skin.
Family
Trivia
In episode 79, Kukai said that he had to buy groceries because he lost in a game of rock-paper-scissors. It is most likely that the game was between Kaidou and Kukai, and that Kaidou was the one that challenged Kukai in the first place.
"Kaidou" means "child sea" in Japanese, and has only one kanji in his name the same as Kukai's name. Meaning: Kaidou and Kukai.
See Also