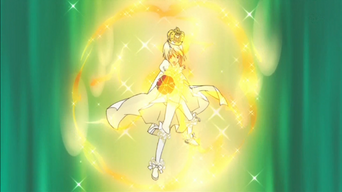 Holy Crown is an attack used by Tadase Hotori during Character Change or Character Transformation.
It serves as an offensive and defensive technique, and allows something he targets to become captured. When it is offensive, it can send out a beam of light. If defensive, it can be in various forms: in the shape of a crown and as a force field. When in the shape of a crown, it is usually used to save someone who is falling. It was also used to fight Ikuto in Episode 33 in a competition for Amu.
After Tadase becomes Platinum Royale, he is able to use a powered-up version of Holy Crown called "Holy Crown Special".
GIVE ME A BREAK!!!!

This article is not completed or was introduced as a stub. Unfortunately, this article may have lack of information, vulgar interceptions, or unknown lyrics.
You can help Shugo Chara Wiki by expanding it.

Ad blocker interference detected!
Wikia is a free-to-use site that makes money from advertising. We have a modified experience for viewers using ad blockers

Wikia is not accessible if you've made further modifications. Remove the custom ad blocker rule(s) and the page will load as expected.