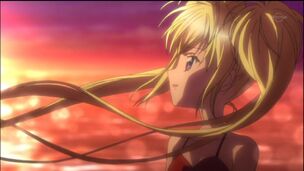 Information
Series: Shugo Chara! Dokki Doki!
Episode Number: 19
English Title: Utau's Wavering Heart
Romanji Title: Utau, Yureru Kokoro
Kanji Title: 歌唄(うたう)、揺れるココロ!
Airdate: February 13, 2010
Directed by:
Written by:
Preceeded by: Episode 120: An Exciting Picnic!
Followed by: Episode 122: Heartbeat! Egg got X an mark on it?

Characters
In order of appearance:
Summary
Utau storms out of a recording session for her new song because the director tells her to sing in a more gentle way but she refuses, and as she storms out, Kukai asked Utau to eat ramen with him, she obliged and went to eat ramen with Kukai to cool her head. But when even her favorite ramen shop changes their recipe to a lighter base in response to customer feedback, Utau get mad and ask if this shop is selling their pride, Kukai tells her at times like this she should go talk to one of her female friends and eat something sweet.Kukai teases Utau by saying she had no female friends, she replied she does have.It is none other than Amu. Amu is shocked when Utau appears at her house, but Amu's family is very happy to see Utau. They began embarrassing themselves in front of Utau. The two of them go out to talk. Then, an X egg, which kept saying 'I don't wanna,' appears. Utau get annoyed and says to it "Why dont you try the thing you don't want to; maybe it turn out to be more greater than you ever thought." Amu says that Utau's right. Just then, Utau realizes that her behaviour in the studio was wrong. Amu purifies the X egg and Utau says 'Thank You' to Amu, though she didn't know what Utau meant. Utau goes back to the studio and apologizes to the director and records the new song, Akane iro no Sora.
Character Transformations
Used Attacks