GIVE ME A BREAK!!!!

This article is not completed or was introduced as a stub. Unfortunately, this article may have lack of information, vulgar interceptions, or unknown lyrics.
You can help Shugo Chara Wiki by expanding it.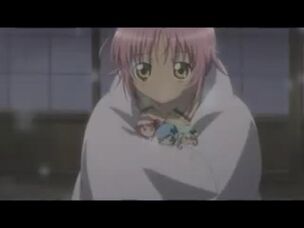 Information
Series: Shugo Chara!
Episode Number: 11
English Title: A Holiday on the Snow Mountain!
Romanji Title: Yukiyama no Kyūjitsu!
Kanji Title: 雪山の休日!
Airdate: December 15, 2007
Directed by: Susumu Kudo
Written by: Tomoko Koyama
Preceeded by: Episode 010: Character Transformation! Amulet Clover!
Followed by: Episode 012: A Sad Christmas Eve!
Summary
The Guardians go on a winter training camp and stays with Kukai's grandfather, who is the priest at a temple near a ski resort. The Guardians enter a snow-sculpting contest, each building a part of a castle. However, Amu becomes discouraged with her gate. When Amu asks Miki to do a Character Change, Miki refuses. On the way back to the temple, Amu asks Tadase about the person he said he already liked when he rejected her. Tadase explains that he was referring to a family dog. Nevertheless, confesses that he has come to like, Amu's alter ego, Amulet Heart. That night, Amu becomes depressed that Tadase likes Amulet Heart, but that Amulet Heart is not her. Ran reminds Amu that Amulet Heart is Amu's would-be self and that Amulet Heart exists within Amu. Amu then becomes determined to work towards becoming her would-be selves.
Character Transformations
The Guardians
Trivia
In the original manga, Kukai's grandfather lived near a beach and it was a sand-art competition.
Ad blocker interference detected!
Wikia is a free-to-use site that makes money from advertising. We have a modified experience for viewers using ad blockers

Wikia is not accessible if you've made further modifications. Remove the custom ad blocker rule(s) and the page will load as expected.