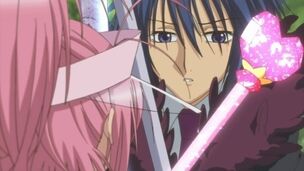 Information
Series: Shugo Chara!! Doki
Episode Number: 39
English Title: I Want To Tell You My Feelings!
Romanji Title: Tsutaetai! Kono Kimochi!
Kanji Title: 伝えたい! このキモチ!
Airdate: July 4, 2009
Directed by: Takahiro Majima
Written by: Mamiko Ikeda
Preceeded by: Episode 089: Heart, I Understand.
Followed by: Episode 091: Full Throttle! My Rhythm!
Characters
In order of appearance:
Summary
Shout out to who you love contest! Yaya signs Amu and Tadase up for the Shout out to who you love contest, so they could "Investigate Easter's Death rebel Plan" At the contest Nikaidou Yuu-san apologizes to Sanjo Yukari-san because Sanjo wanted the entry prize for Utau so Nikaidou teased her. Sanjo-san and Nikaidou-san blush when they realize they said that to the audience. Ami also enters the contest with the Plum Class boys. Ikuto Extracts X eggs from the audience right before Tadase could say something to Amu. Amu and Tadase Character Transform into Amulet Heart and Platinum Royal. Ikuto Character Transforms into Death Rebel. For a Minute Yoru and Amu's Words get into Ikuto but he quickly changes back. Ikuto escapes and the Embryo appears when Tadase and Amu are purifying the hearts.
Character Transformation
Used Attacks
Ad blocker interference detected!
Wikia is a free-to-use site that makes money from advertising. We have a modified experience for viewers using ad blockers

Wikia is not accessible if you've made further modifications. Remove the custom ad blocker rule(s) and the page will load as expected.