Information
Series: Shugo Chara!! Doki
Episode Number: 36
English Title: Save Nana! Guardian Character Nurse and Safeguarding?
Romanji Title: Nana o Sukue! Shugo Chara Nāsu Shutsudō?
Kanji Title: ナナを救え! しゅごキャラナース出動?
Airdate: June 13, 2009
Directed by: Yūsaku Saotome
Written by: Kinuko Kuwahata
Preceeded by: Episode 086: A Singing Voice! The Me of that Day!!
Followed by: Episode 088: Calamity! The Great Mystery Egg Runaway!!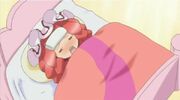 Characters
In order of appearance:
Summary
Nana becomes sick which leads to Lulu becoming very worried. She asks Amu for help but hangs up after finding out that she is no help. However, Amu drops by her house to visit Nana. Lulu, together with Amu, goes off to buy Nana's favorites while the others nurse her. Lulu trips on the waste basket to find out that Nana ate all of the jelly beans. Now that Amu found it out, she was going home when Lulu's mom wanted Amu to sleep-over. Lulu's mom explains that she wanted the carefree Lulu. When Amu woke up, Lulu thanked her. Without knowing, Nana spills the secret of the ? eggs.
Wishing egg Character Transformation
Ad blocker interference detected!
Wikia is a free-to-use site that makes money from advertising. We have a modified experience for viewers using ad blockers

Wikia is not accessible if you've made further modifications. Remove the custom ad blocker rule(s) and the page will load as expected.