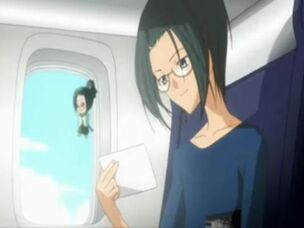 Information
Series: Shugo Chara!
Episode Number: 44
English Title: Twinkle of the Heart!
Romanji Title: Kokoro no Kirameki!
Kanji Title: ココロのきらめき!
Airdate: August 09, 2008
Directed by: Yuki Yase
Written by: Kazuhiko Inukai
Preceeded by: Episode 043: Character Transformation! Amulet Dia!
Followed by: Episode 045: Go for it! Seiichiro!
Summary
Upon hearing the news from Nikaidou about Kairi's sister leaving Easter to start her own agency, Amu, Yaya, Rima, and Tadase go to visit Kairi and help Utau and Yukari move to their new office. While celebrating the opening of the new business, Kairi reveals to the rest of the Guardians that he will be returning home to his parents and friends. Before Kairi boards the airplane, he confesses his love to Amu while declaring Tadase as his rival. Although flustered by the confession, Amu tells Kairi that they must certainly meet again in the future.
Trivia
Ad blocker interference detected!
Wikia is a free-to-use site that makes money from advertising. We have a modified experience for viewers using ad blockers

Wikia is not accessible if you've made further modifications. Remove the custom ad blocker rule(s) and the page will load as expected.