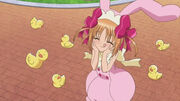 These plastic bathing ducks are used by
Dear Baby
to perform the technique "
Let's Go! Go! Little Duckies
". In the manga, Dear Baby improvises this technique. "
Duckies Scramble, Go Go
" forms a shield of bathing ducks, "
Ducky Dash
" sends out all her ducks at once to swarm and attack a target, and "
Black Duckies, Go, Go
" turns her cute ducks into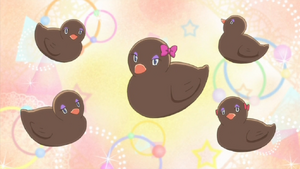 seductive ones, serving as a distraction.
They are also often used in conjunction with Clown Drop's Tightropes in techniques which require holding or pinning down objects.
Ad blocker interference detected!
Wikia is a free-to-use site that makes money from advertising. We have a modified experience for viewers using ad blockers

Wikia is not accessible if you've made further modifications. Remove the custom ad blocker rule(s) and the page will load as expected.