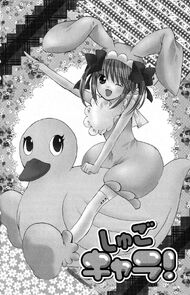 Information
Series: Shugo Chara!
Volume: 9
Chapter: Chapter 35
Previous chapter: Chapter 34
Next chapter: Chapter 36
Episodes based at this chapter: Episode 99
Characters
In order of appearance:
Summary
yaya turns into dearest baby then she tells amu that she is grown up enough to defeat the dog.
Character Transformations
Used Attacks
Trivia
Ad blocker interference detected!
Wikia is a free-to-use site that makes money from advertising. We have a modified experience for viewers using ad blockers

Wikia is not accessible if you've made further modifications. Remove the custom ad blocker rule(s) and the page will load as expected.