Angel Wink
(エンゼルウインク) is a method used by
Amu
as
Amulet Angel
to attract boys.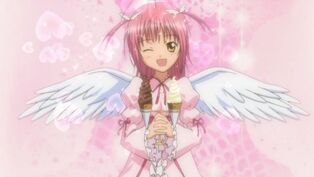 Trivia
It first appears in Episode 33 to stop Ikuto and Tadase from fighting, but it didn't work. Probably because Ikuto and Tadase were already attracted to Amu, but not externally.
It was later used in Episode 59 to get the attention of many boys, so she can give flyers to them.
Gallery
Ad blocker interference detected!
Wikia is a free-to-use site that makes money from advertising. We have a modified experience for viewers using ad blockers

Wikia is not accessible if you've made further modifications. Remove the custom ad blocker rule(s) and the page will load as expected.