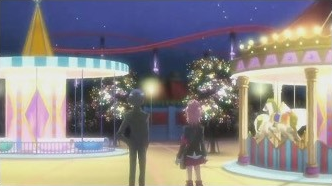 In chapter 14 of the manga and episode 26 of the anime, Amu and Ikuto stop at an amusement park that will be torn down soon. Amu and her Guardians go on many rides, but then Amu convinced Ikuto ride a tea-cup ride and they share a heart to heart moment. In the last chapter, it is revealed to have been torn down. This is the part where Ikuto appears from behind her and sees her after a long time. In the anime Amu tells Ikuto that it was bought by Easter. In another episode, Amu takes Rikka and Hikaru to the same amusement park to show him what it is like to have fun.
See also
Ad blocker interference detected!
Wikia is a free-to-use site that makes money from advertising. We have a modified experience for viewers using ad blockers

Wikia is not accessible if you've made further modifications. Remove the custom ad blocker rule(s) and the page will load as expected.