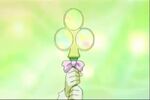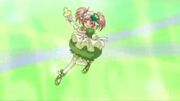 The Bubble Wand is Amulet Clover's item to harness the defensive attack "Honey Bubbles".
Trivia
It first appears in Episode 60.
It summons bubbles that are supposedly made from honey.
It can probably restrain most people/animals.
If Amulet Clover changes to Amulet Heart or Amulet Spade or the transformation is canceled, any bubbles created by the bubble wand will disappear.
This item is anime-only.
Ad blocker interference detected!
Wikia is a free-to-use site that makes money from advertising. We have a modified experience for viewers using ad blockers

Wikia is not accessible if you've made further modifications. Remove the custom ad blocker rule(s) and the page will load as expected.